Cupolas for Gazebos and Pavilions: That Final Touch
Choose from a Square Cupola or a Hexagonal Cupola for your pavilion or gazebo. The extra touch on the roof with a cupola for a pavilion or a cupola for a rectangular gazebo will add a special touch that finishes it off. Keep in mind that we do not carry octagonal cupolas for gazebos. If your gazebo or pavilion is square or rectangular, find a copper-roofed or a painted roof cupola in our store.
A Cupola for Pavilions and Gazebos
A pavilion or gazebo is a lovely place to spend a quiet evening alone or a robust evening with friends and family. They provide shade from the heat and create a more cozy atmosphere all around.
But your pavilion or gazebo will stand out even more with a fancy cupola with a copper weathervane to grace the roof. A cupola for a gazebo or pavilion can either provide extra airflow by choosing a cupola with louvers or be there just for the aesthetic beauty.
Popular Pavilion or Gazebo Cupolas
There is no "one size fits all" for a Pavilion or Gazebo Cupola. Every structure should find a match that enhances the design. You can find your pavilion cupola or gazebo cupola starting below. But do not allow your imagination to be limiter by what you see here. We offer wooden cupolas, vinyl cupolas, copper roof cupolas, painted cupolas, cupolas with a concave roof, and more. Looking for a specific size like a 30-inch cupola or a 36-inch cupola, we can help you match the needs of your pavilion or gazebo.
Pavilion and Gazebo Cupola Q and A
Can I customize my Pavilion or Gazebo Cupola?
To a certain extent, yes. If you visit the store you get to choose roof material, window or louvered cupolas, and more. But, on the other hand, we do not build fully customized cupolas for pavilions or gazebos. You get to choose from our list of cupolas and the options we offer.
How difficult is a Cupola to Install?
Good Question. Several things to consider are the roof pitch of your pavilion or gazebo where you hope to install the cupola, the size of the cupola, and your own experience in DIY projects. If you are going with a large cupola, we would certainly recommend hiring a contractor to install it. However, if your roof pitch is low and you are getting a smaller cupola, you can follow our installation guide here. Whatever you do, be sure to take all the safety precautions.
Are your Gazebo and Pavilion Cupolas Really Made by the Amish?
Our wood and vinyl cupolas are made by real Amish in Lancaster County, PA, and are delivered right to your doorstep all over the USA and Canada.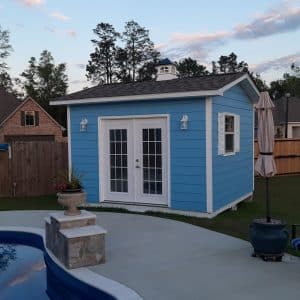 Very pleased, was the perfect touch to our new pool house.
John Sasso
Gulfport, MS
We love the look of our cupola! The sizing guide helped us to pick the correct size for the structure. We have received so many compliments on the cupola.
Lindsay Short
New York
We purchased this weathervane last fall and finally had it installed today on our outdoor pavillon. We love it! It is well made and puts a nice finishing touch on the structure. Thank you so much.
Janis Lyons
Highland Hts, OH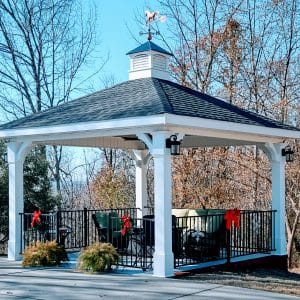 We love it thank you so much.
Phyllis H.
Cullman, AL
Photos of Pavilion and Gazebo Cupolas
Want to see how our pavilion and gazebo cupolas will look on your structure? See photos here of pavilions, gazebos and pool house cupolas.
And don't forget that we offer a variety of cupolas including square cupolas, window cupolas, hexagon cupolas, and more.
Shop Vinyl Cupolas
Last, but not least: Add a Weathervane to Your Gazebo or Pavilion Cupola
A weathervane on your pavilion or gazebo cupola will be the cherry on top of the ice cream! Choose from around 100 copper weathervanes in our online store featuring many themes from the popular rooster weathervane and the old-fashioned copper horse weathervanes. Or go more unique and find something outside the box. Get started by perusing the many options for weathervanes or type in the weathervane you are looking for in the search bar on the top of the page.