A cupola is a perfect way to add a sense of decorative whimsy and charm to your barn, garage, gazebo, or shed. At Cupolas N' More, we offer the finest vinyl cupolas, copper cupolas, and weathervanes for accenting just about any building. Our line of products includes high-quality offerings in a variety of styles to match your taste. Check out our blog post if you want to learn more about "The Features, Uses, and History of Cupolas"
All of our cupolas for sale are manufactured for easy installation with any of our weathervanes.
For more information on the perfect fit for your facility, check out our handy guide to help you choose cupolas and weathervanes for a barn, vinyl, or copper cupola!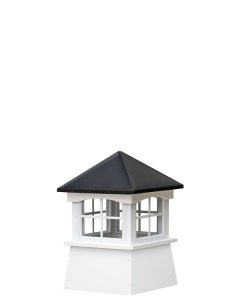 Small Cupolas
(17"-26" wide) Great for sheds and small buildings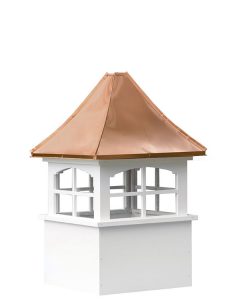 Medium Cupolas
(25"-41" wide) Great for homes, garages, and small barns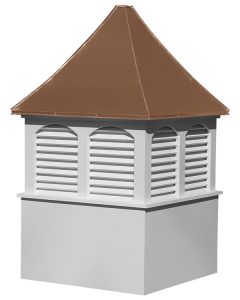 Large Cupolas
(37"-53" wide) Great for large homes, pole barns, and large horse barns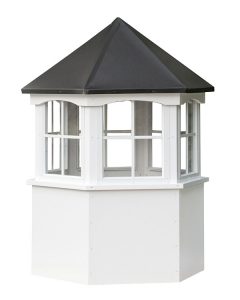 Hexagon Cupolas
(29"-65" wide) Beautiful cupolas with extra class for medium to large homes, barns, and garages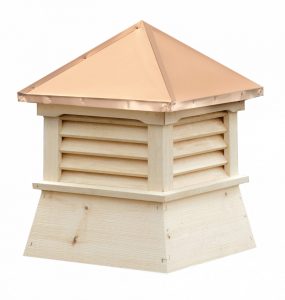 Wood Cupolas
(25"-53" wide) Rustic white pine cupolas in a variety of sizes for any size home or barn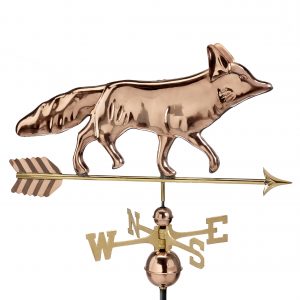 Copper Weathervanes
Many sizes and styles to perfectly compliment your cupola and property
Choosing the Right Style and Size
With the variety of barn cupolas, gazebo cupolas, and more on the market, you'll have plenty of options to consider when making a purchase. Our cupolas come in square or hexagon styles, with louvers or windows, and may be made of either vinyl or wood. We categorize cupola size based on three categories: 20 to 30 inches high, 33 to 70 inches high, and up to 85 inches high.
An Array of Durable Materials
Cupolas from Cupolas N' More are built to last, with materials to choose from that provide the perfect match for the type of building or structure that the cupola will adorn.
Vinyl cupolas are durable, cost-effective, and practically maintenance-free. This is the perfect option for vinyl-sided barns, sheds, gazebos, or garages.
For people that prefer a rustic, natural look, wood cupolas may be the best choice. Our wooden cupolas can be painted or stained to match the look of the structure they top.
Copper-roofed cupolas offer your shed, barn, gazebo, or garage a bit of class and sophistication. Whether you prefer your copper to shine, or would like us to apply an attractive patina, we can keep your copper roof looking just as you love it, year after year.
Perfect for Any Structure
Dress up your garage or cabin with an attractive cupola treat to match the color of the building. Enhance your shed, barn, and gazebo. Consider improving your home's curbside appeal with a cupola and a beautiful copper weathervane. No matter the size, shape, or location of a structure, a cupola can serve as an eye-catching addition!
We're certain you'll love the quality, design, and style of your Cupolas n' More product.
We look forward to helping you!
Sign up for our newsletter!