Shed Cupolas: Add Character to Your Backyard
You know the feeling. Everyone in the neighborhood has a storage shed that looks about the same. Plus, when you walk into your shed every day, you wish it had better ventilation. With a SHED CUPOLA your backyard shed will brighten up your backyard and, if it is ventilated, make your shed a cooler place during the hot summer months.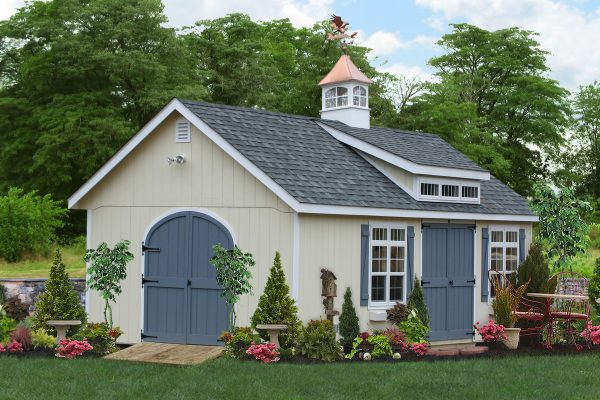 Imagine Your Shed with a Cupola
You've invested in a storage shed, now it is time to add the cupola to top it off! Literally! Our wood or vinyl cupolas for sheds can be small or large, copper or painted, wood or vinyl to fit your needs and your backyard.
It's as easy as 1, 2, 3… Simply find your cupola for sale in our store, it will be shipped to your preferred location and you can install with our instructional video!
To give you shed the cupola it deserves, start here. You can choose a simple small shed cupola with louvers or choose a cupola with a copper rooftop cupola and windows. Don't miss the weathervanes for your shed cupola to make the look even better!
What size should my Shed Cupola be?
That depends on the size of the shed where the cupola will be installed. Rule of thumb is measuring the length of your building and then multiplying by 1.25. That will give you the approximate inches that are idea. A 24-foot shed needs a 36-inch cupola, a 32-foot shed needs a 48-inch cupola. See more instructions here.
How difficult is a Shed Cupola to Install?
Some of it depends on what you want to accomplish with a cupola on your shed. If you strictly want a cupola for making your shed look snazzy, then the process is quite straightforward. However, if you want to ventilate your cupola, there are a few more steps.
Are your Shed Cupolas Really Made by the Amish?
Well, that was a clever question! Truth be told, our cupolas for sale are made by real Amish in Lancaster County, PA and are delivered right to your doorstep all over the USA and Canada.
Add a Weathervane to Your Shed Cupola